This week, I thought I'd take a break from talking about international travel, and focus on some local adventures. As most of you already know, I live in the heart of Arkansas, and as of two days ago, Autumn has arrived. This means we can all finally go outside without dying of heat exhaustion! Seriously, it's a BIG deal. With the changing of the weather, it seems that everyone is enthusiastic about enjoying the outdoors, and in Arkansas, there are plenty of places to do so. In this blog post, I want to touch on a few places I have visited within the Natural State, and some others that I hope to visit in the near future.
#1 Petit Jean State Park
My second time visiting this park was just last week, and it never seems to get old. It's probably one of the most popular parks in the state,  and for good reason. There are over 20 miles of hiking trails, all with different sights and sounds. I have only been on the Cedar Falls trail, which of course leads to a beautiful waterfall after a 2 mile hike. This hike seems backwards compared to some other places I've hiked. You'll start at the top of a mountain next to a great lodge. The trail will take you down the mountain, across a tiny bridge, and through a riverbed until you reach the jewel of the journey.
#2 Eureka Springs
One of the most unique places in Arkansas, Eureka Springs is the perfect weekend getaway destination for the fall. This mountain town is rooted in the northern area of Arkansas' Grand Canyon, and the views promise to not disappoint. The culture feels natural, with a hint of hippie. This little town is kinda old, and grew quickly back in the day. Because of this, different parts of the town are separated by staircases. Other than a unique shopping experience, Eureka Springs has a few historical locations to visit. The Crescent Hotel is the most popular, as it is rumored to be one of the most haunted places in Arkansas. We didn't get a chance to tour the building as all of the tickets were sold out (It was Halloween, and apparently its recommended to order your tickets a few weeks in advanced… so do that if you decide to go).
One aspect of this town I particularly enjoyed were the many available cottages for couples and families. Instead of staying in a chain hotel, most of the available rooms for rent are actual tiny houses, equipped with a small kitchen, dining room, and living room. For the couples, some houses offer a two-person Jacuzzi tub in the living room. Now you're probably thinking it sounds trashy, but just look at these Treehouse Cottages!
#3 Pinnacle Mountain State Park
If you're located in Central Arkansas, and don't feel like making the drive to anywhere else in the country, you'd be happy to know that there is a great hiking adventure not too far from home. Pinnacle Mountain is located just northwest of Little Rock, and offers several trails all with increasing difficulty. The hardest side, the west side, involves some climbing while the east side is more of a casual hiking experience. Regardless of which side you choose, you will be in awe at the top.
#4 Twin Falls
I haven't actually been to this place yet, but it looks incredible. Twin Falls is located in Sand Gap, AR. The hike is roughly 4 miles round-trip, so the guide services recommend planning for an all day adventure. If hiking isn't your thing, there is a shuttle service that allows you to park your car at the beginning of the hike, and theirs at the end. Downside is that it costs $30. Either way, it seems to be worth it…
#5 Whitaker Point (Hawksbill Crag)
When I first read about this place, I felt intrigued, but terrified. This is not the trip for the faint of heart. This three mile hike includes waterfalls, wildflowers, and the Hawksbill Crag. The Crag is actually kinda famous. According to the Buffalo Outdoor Center's website, the Disney movie, "Tuck Everlasting", was filmed here. The website was pretty informative with information you really should read before going on any hike. Check out their website here. They say the end slopes downward more, which has actually taken a few lives. Here's what it looks like: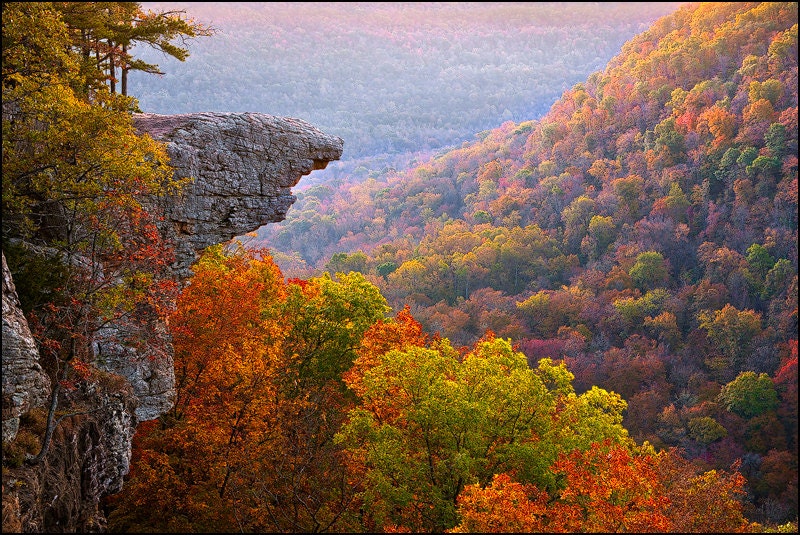 Really, I could go on for days talking about the best places in Arkansas for the fall… but nothing really compares to the real-life beauty in the natural state.
(Feel free to tell me some of your favorite places to visit)