With the election finally coming to a close, many of you are making life plans for the next four years. Though many are you are content with the outcome, some  are feeling quite anxious, and are considering joining our neighbors to the north. Canada has plenty to offer, both in cultural value and natural beauty. Not only does this country appeal to the senses, they actually have their s**** together! The government offers free health care and tuition assistance to all of its citizens, and no one complains about it.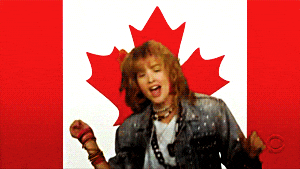 Canada is made up of 10 provinces, each containing a variety of cultures and languages. Though the country predominately speaks English, French roots can be found in the eastern half of the country in cities such as Montreal and Québec City. The western half of the country is home to British traditions in towns like Victoria and Vancouver. Toronto is considered a cultural hub, and is composed of smaller cities like Chinatown, Greek town, Little India, and Koreatown. All of these places have a common love for Hockey, being super nice, and Tim Horton's coffee.
Canada is home to some crazy beautiful wildlife. Grizzly Bears, Moose, Wolves, Big-Horned Rams, and Wolverines roam the wilderness, which covers most of the country. To the north, Polar Bears, Seal, Arctic Fox, and Killer Whales own the tundra. The American Rocky Mountains can be found throughout parts of Canada, and offer some of the most magnificent views. Jasper National Park is home to huge glaciers, and lakes created from these marvels. Niagara Falls is located on the U.S. boarder, but should definitely not be overlooked.
Of course, I do not recommend ditching this country just yet, but definitely keep Canada in mind. The beauty of the environment and the people make this country a must see for all types of travelers.